>> Mar 14, 2010
This is hard for me. I have several friends from my past that I still talk to, I'd said the oldest friends are Alisa and Randie but I don't talk to either regularly. Thanks to facebook we are able to stay in touch though.


Jane is leading today's blog challenge.. and she wants us to share our oldest friend.

Then there is Neala who is the next longest friendship I've had. We were college roommates and she is as much a part of who I am as my parents. Unfortunately, we don't talk near as much as we should. But she is still a very important person in my life. She has come to visit me, I have headed her way (at the moment it's definitely my turn to visit her!) Neala has a great family now and two adorable little ones that keep her on her toes. Over the years I have been blessed to visit with her even though she lives in DC. Her family lives in Michigan so I would see her on visits. Then I headed out there for a few trips. Heck, I even spent my honeymoon at her place, without my husband. (Long story, another post) So even though she likes to abuse pregnant women.. between making me stand up in her wedding 8mos pregnant to making me walk the Las Vegas strip.. again 8 mos pregnant.. I still love her and miss having her be a part of my life every day.
Then there is Terri. Terri and I met on a single mom's board. We exchanged emails and chatted and became friends instantly.. one weekend we both got a feather in our hat and realized Cincinnati was half way between us, and only four hours! So we jumped in our cars with our kids, headed out for a weekend getaway. We did this several times over the years, during which time we became very close with Cindy (who unfortunately did not live 4 hrs from Cincinnati...)
Finally in 2001 we decided to all meet, and chose Chicago.. (coincidently shortly after I met Neala there for the weekend!) we had a girls weekend in which we hardly left the hotel. It was an amazing moment in my life having those two girl weekends, it made me realize the importance of female relationships. I had lost my mother, married a wonderful man but had few friends at that time. We have meet somewhere nearly every 4 years since.. 2005 we headed to a spa in Canada.. in 2008 we went to a scrap retreat in MN. Currently I'm trying to convince them how cool a Vegas trip would be ;)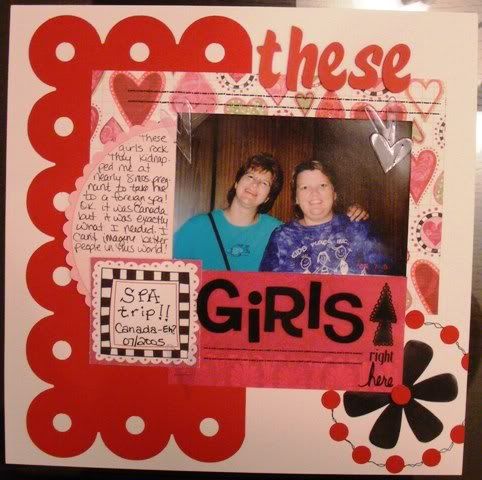 An old layout of them after the spa trip